"Scruffy Hospitality": Why NOT having the perfect kitchen is perfectly acceptable
We don't need a big or perfect kitchen to cook for friends or family
If I can do it in my kitchen, you can do it in yours.
I show you around my kitchen, and all of its small humbleness
I show you my white board and how I use it to keep my meals in order
I show you my Kitchen Wisdom Poster (links below to download yours for free)
I shed some tears, as we are moving from this home in 15 days and I realized how grateful I am for this kitchen and all that I have learned being in it.
My Story on "Scruffy Hospitality"
After  I made this video, my heart was beating fast. I knew I needed to make this video, I knew I had to share my true-to-life kitchen experience. I began Whole and Healthy Kitchen exactly a year ago. And in the beginning I doubted if I was ready to start this project. I knew my kitchen wasn't "perfect" and thought my camera wasn't "good enough" but I did it any way. I chose not to wait for a better time or bigger kitchen, instead I jumped right on in and began to teach and learn that the Kitchen is indeed, first an inner domain.
Our kitchen is meant to be a place to bring people together and have shared experiences over food. I surely did this. I've had many people in my kitchen, and served hundreds of meals here and we all ate on our laps! (no kitchen table :)) But what I learned through this was exactly what this article says: "Are they coming to see me, or are they coming to see my home?" …and they are most definitely coming to see me. And you know what, no one ever cared that my house was small or they ate on their lap. They loved the good food and good company…and that's what matters. I wanted to share this so that you know it does not matter what your home or kitchen looks like. Your place does not have to be "perfect" before you can welcome others and serve them there. Friends and Family want you to be you. When we are ourselves and living our lives with children, family and work, our place will not be spotless or picture perfect. And that is perfectly okay. We need to accept that its perfectly okay and let others in, if we don't, we miss out on the great things, like quality time with friends and family over meals.
Father Jack defines scruffy hospitality this way:
Scruffy hospitality means you're not waiting for everything in your house to be in order before you host and serve friends in your home. Scruffy hospitality means you hunger more for good conversation and serving a simple meal of what you have, not what you don't have. Scruffy hospitality means you're more interested in quality conversation than the impression your home or lawn makes. If we only share meals with friends when we're excellent, we aren't truly sharing life together.
I hope to inspire others into knowing that our kitchen does NOT have to be perfect. It literally just needs to BE. And then those whom you love will flock to it and you will have so many experiences that light everyone's Soul on fire. These are the memories that we will cherish in our final days on earth. Its worth welcoming people now, right where you are, in the kitchen you have- big or small.
Check out this well articulated article on "Scruffy Hospitality", that inspired the title of this blog:
https://www.mnn.com/your-home/at-home/blogs/in-priase-scruffy-hospitality
Kitchen Wisdom Poster
My community gets a complimentary copy of my FREE Kitchen Wisdom Poster PDF. I encourage you to print it out and hang it on your fridge or inside a cupboard as a daily reminder of your want to be, cook, live and be whole and healthy!!! Download Yours Today

3 Part Video Series: Transform Your Kitchen Experience
This video series is here to help you to learn the Mindset, Workflow and power of Responsibility to be empowered to begin the process of transforming your kitchen experience. As you shift your relationship with food and your kitchen, so does your relationship to Self and all things shift. Sign-Up for FREE Today.

21 Days of Deep Work: Find Your Purpose in Your Kitchen


I created this course to help busy people to develop new skills and discover new tools for self care, mindset & kitchen transformation. And to help you deeply connect with your divine inner strength so you are prepared to overcome all obstacles both in and out of the kitchen. Because I love you, I am offering you 10% off!! Yes!! So hop on over to my course page, and use the coupon code "WAHK10″to get your discount!

I give weekly gifts, gratitude and shout-outs to our community, so post a picture, quote, screenshot or video on Instagram and use #WholeandHealthyKitchen or #WAHKinspired! I can't wait to hear your thoughts about this episode!
Pin to Pintrest or share on social media!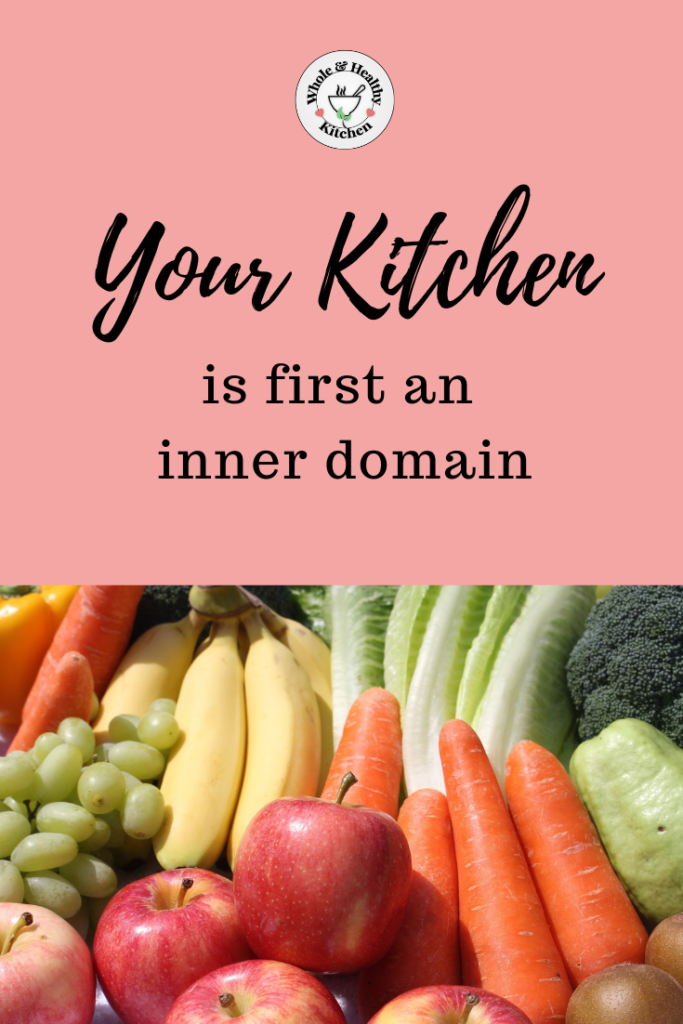 April 16 2019       #WholeandHealthyKitchen #WAHKinspired