Healthy Lunchbox Inspiration
Every evening as soon as Ella gets home from school, while she is eating her after school snack, I clean her lunchbox and pack it immediately. I always keep in mind a whole and well balanced meal.
When you are putting together your lunches, think vegetables first!!!!
Then add your protein, your fiber, your healthy fat. And that my friends, is a whole, healthy & balanced meal.
Orange + Beet Crackers + Breaded Chicken + Probiotic apple cinnamon bar + romaine lettuce
Made Good Bar + apples with cinnamon + Almond milk + Annie Mac and Cheese + Carrots and Cucumber + Dried Mango + quinoa chocolate balls
Avocado with lemon + mini carrots + prezel crackers + made good bar + oranges + banana + organic cereal puffs
Boiled egg + mayo + hemp hearts sandwich + cucumbers + mini carrots + apple sauce and chia seed + veggie sticks + probiotic granola bar + 2 gummy bears
Rice cakes and chia jam + probiotic bar + veggie sticks + gummi multi vitamin + blueberries + apples
Pineapples, Roasted Beets, Raisins, Seaweed Snacks, Apple, Cucumber & Hemp Heart Sandwich on Sprouted Bread
Mixed Greens, Golden Salad Dressing. Veggie Sticks, Dates, Clementines, Cucumber Sandwich with Hemp Hearts on Sprouted Grain Bread.
Raw Carrots, Cucumbers, Cabbage. Veggie Sticks. Cucumber Sandwich with Hemp Hearts on Sprouted Bread. Dark Chocolate chips (in M&M container!)
Grapes, 1/2 apple, veggie chips, flatbread, cauliflower mash, shredded carrots, shredded cabbage, cheese. (she puts all the fillings inside flatbread for a wrap she makes her self!)
Rice noodles + coconut oil + salt + edamame, Mini muffins, cabbage, roasted tomatoes + orange peppers, leftover pancakes.
Snap peas, dates, homemade nuts & bolts, clementine, 1/2 apple, leftover pancake, sprouted grain toast with chia jam.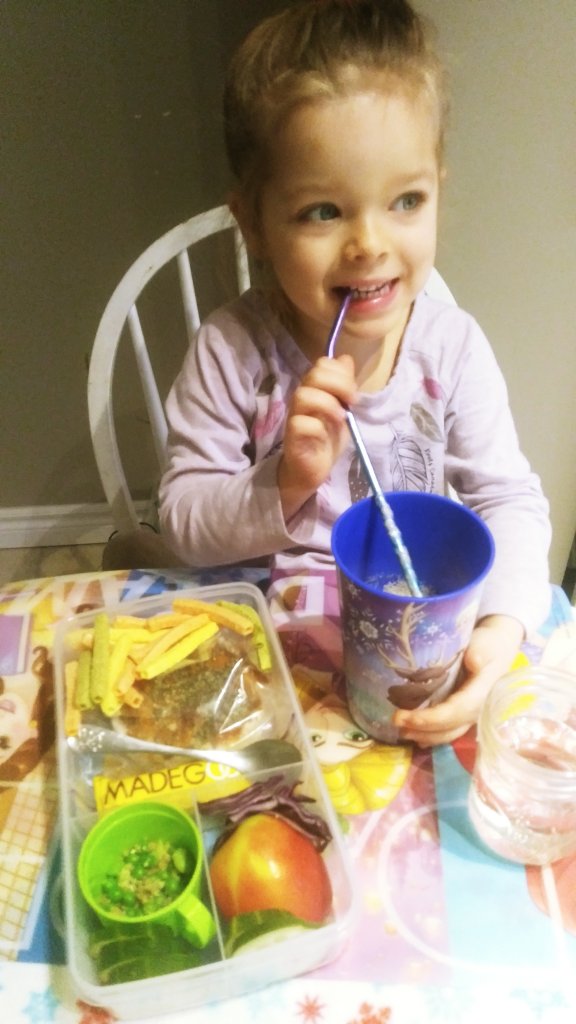 Quinoa + Peas + Coconut Oil + Salt, Made Good Bar, Cucumbers, Apple, Red Cabbage, Veggie Chips, Rice Cake + Jam + Chia
Could you benefit from even more lunch box tips & inspiration??
Join My FREE Group on Facebook
You will Learn & Receive:
*How to make well-balanced meals instead of processed / pre-packaged foods
*How to make lunches simple, delicious & nourishing
*How to get creative with meals!
*Tools to save time and save stress
*You have a community that supports you!