Ella's 5th birthday...and our Covid Precautions🥳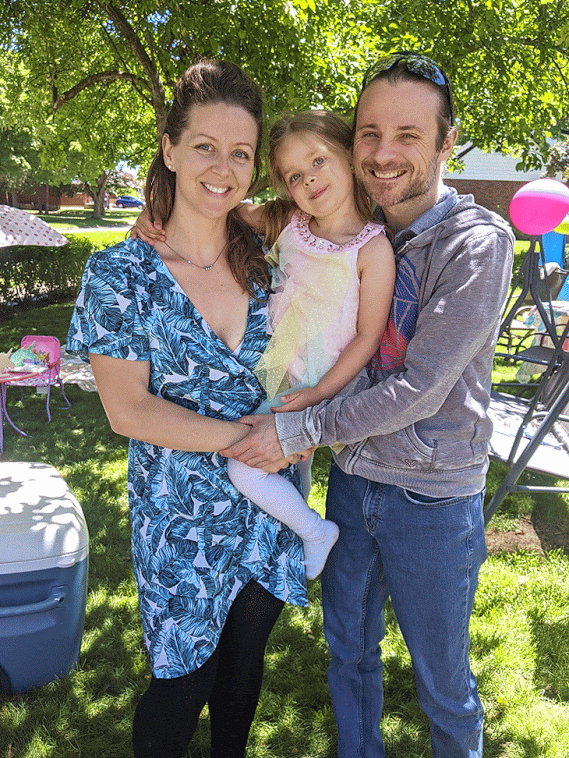 Our baby girl is now 5!!! This one is a big one! Her age is her whole hand!!✋
I wanted to make it special. I wanted to make it memorable. And honestly my intent brought my family, friends and neighbors together to make this a day Ella Joy will never forget.
⭐It began with Mommy, Ella and Daddy time. Her gratitude is out of this world. Even after 3 small gifts from us she said this was the best birthday ever. We laughed so hard as she had no idea the amazing day ahead of her.
⭐Next Nanny showed up to help set up and then her friends showed up, one at a time to enjoy the day.
⭐They each did a unicorn craft, the jumpy castle and then……Ella got a call from Elsa!!!!! She was completely enamored!!
⭐If that wasn't enough, her family came after her friends left and all lined the walk way of our home. Ella and I hid inside as not to see the surprise. When we walked out Daddy began to sing Happy Birthday and everyone joined in. *Happy tears are flowing here*. Then….. we could hear her favorite song playing in the background (This girl is on fire by Alicia keys!!), a revv'd engine and then my brother was using a remote control to drive a new Maserati Hot Pink Car down the drive way. Ella squealed in joy and got in her new car. The amazing thing about this is Ella's Aunty asked her what she wanted for her bday and Ella for the first and only time said "I want a pink car I can ride in", they jumped on that!! Told the whole family and made it happen!! Now she has her own car because she ASKED for it!! hahahah Its amazing the power asking can do.
⭐The party continued the next day with more friends and play and delicious food.
It was honestly an incredible experience all around and Ella is so happy. So are mommy and daddy but we also cannot wait to take a nap!!!
Yes restrictions have lifted a wee-bit where we live, but it is still important to not only respect the restrictions, but also respect each others needs and wishes.
So I tried to make her birthday inclusive of the health, well-being, and safety of all involved.
🌱First, I scheduled time slots for friends and family. Every one got a 1 or 2 hour time slot so that it was staggered through out the weekend.
🌱We got close and touched only those part of our "bubble". (our bubble includes 10 people, and its the same 10 people we can get close with…no more than that)
🌱 Next, I texted everyone before the party started with my "Covid Precautions". I was very specific about what I expected from them (wash hands, social distance, inside house only for bathroom, no hugs, throw your garbage out immediately etc), and what they are to expect from me (the same things I expect of them).
🌱Telling them ahead of time was the best decision ever!!!! Everyone was thankful and knew what to expect upon arriving. The akwardness was gone, plus there was no room for miscommunication or possible resentments later.
🌱Once every one felt safe, heard and needs were met the party happened naturally, beautifully and everyone was on the same page!!!
Covid is making it really tough for most of us. But I was insistent on finding a way that works for all.
And that of course, added to the mental exhaustion having to weigh "risks". But since I decided ahead of time, when the party was happening, I was free and happy and so was everyone else!!!

⭐I have realized that if I get clear on what my boundaries are before a gathering, communicate that to others and LISTEN to what their boundaries are….. we can find a meeting place.

Plus establishing my "bubble" and which family or friends are part of the bubble, is really important and helpful.
Tom, Ella and I will also be quarantining from 5 days to 2 weeks just so that we can "do our part".
So thats it! Ellas bday is a wrap and it felt so good!!!! Despite Covid and all!!!
Listen to your heart.
Trust your gut.
Communicate!
There is no right or wrong way to deal with Covid right now.
But we can find a way that works for us, keeps percautions in mind, and is keeping the health of others in mind, too.

I am so happy that this weekend was so much fun!! Our hearts are so full!
Thanks to our family and friends.
And cyber friends all around the world that wished Ella a Happy Birthday.
We love you!!

P.S. Below are also links to all the recipes for the food I made! yum yum!!