Book a Free 20 Minute Private Call with Me
Hi! I am Britney Shawley, a Mom, founder of Whole & Healthy Kitchen. I have also been a spiritual psychotherapist and life coach for the last 11 years. I am passionate about teaching others how to love Self, love God and love to cook!  My goal is to bring positive change to an entire future generation children, through helping parents and souls accept their our own Wholeness and embrace the willingness to nourish self and others everyday. We focus on the training of mind, listening to Spirit and discovering a flow in the kitchen for enjoyable cooking of wholesome meals. 
My Story:
I have always had a desire to help others. Ever since I was young I wanted to do something to make the world a better place.  I saw how most people saw themselves as not good enough and unworthy, and even though I saw myself that way too, I knew that that wasn't right. There had to be another way. From the age of 12 and into my 20s, I was consumed by self sabotage and self hate. I had an unconscious relationship to food and would binge eat every night on processed food, waking up the next morning in pain, not eating for hours, overeating at meal time and repeating the cycle over and over. I became overweight and unhappy because of this which added to the list of things I did not like about myself. I stumbled into my purpose and life's work in 2009 after a particularly brutal binge, and I called out for help to a power greater than myself. To my surprise I was answered and shown another way to see myself and engage in the world in a new way. So began my journey of self discovery and fulfillment of purpose.  Shortly after this in mid 2010, I was gifted the A Course in Miracles from my now life partner, Tom Glod.  I have practiced ACIM like it has been my mission on this planet from day one.  I came to trust my inner guidance and Jesus in all areas of my life, and slowly it extended into my kitchen, my cooking, my parenting, my relationships and my whole life. I saw how if this communication and transformation was possible for me, that it was possible for everyone.
This is why I started this business, to bring inner and outer transformations to the parents and souls who are ready to up-level their quality of wellness and of life to better our future generations and our world. Together we know and remind each other that Joy is possible, Peace is possible, Health is possible, Purpose is possible, for all of us, because God IS real and we are Love and Loved because of Him.
We are safe here in this space, and we can learn to live and cook from this space. 
If you resonate with this message and mission of my work, thank you for being here 🙂 I believe you were sent. I am here for you to connect with at any time. Book a free 20 minute session with me. We can discover if we are the right fit to work together, and in what capacity we are inspired to do so.
With Love, Britney

Moms and Souls who:

want to enhance the thoughts they think and meals they make

want to overcome overwhelm, confusion or stress around mealtime or knowing what "healthy food" is

wants a healed, conscious, healthy and loving relationship to Self, food and others

wants to awaken and be healthy and happy to better their family and world

wants to discover greater purpose/meaning in the kitchen and in their life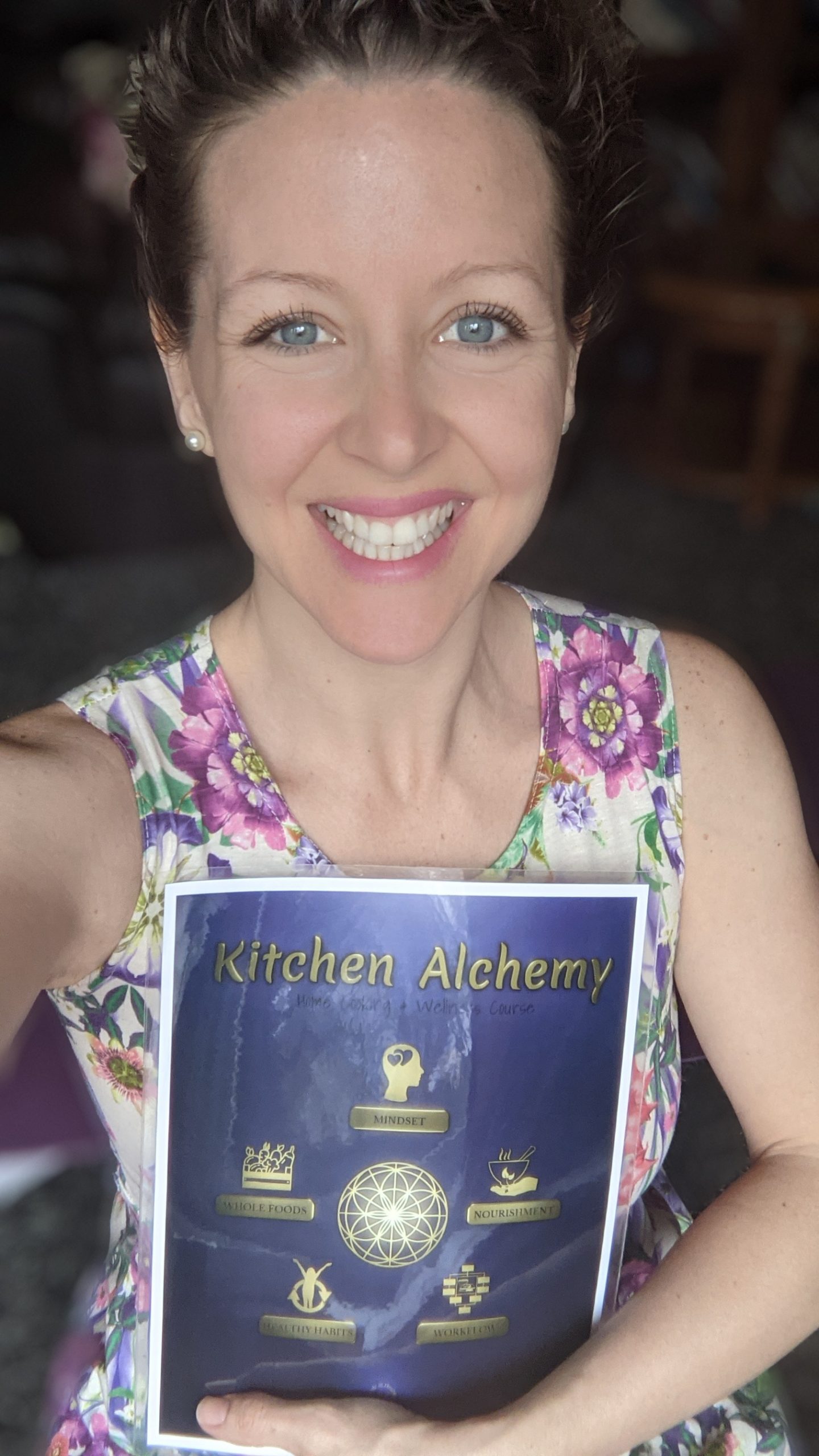 By helping you to know your why, your worth and a way to cook that works for you and your family

We do this through 2 options
    1) 1-on-1 therapeutic coaching sessions
    2) Kitchen Alchemy Course

You will have my 10 years experience working in the realm of mindful living, wholesome cooking and metaphysics.

I help you to shift your mindset and approach to cooking and life

I help you develop the healthy habits necessary for true and consistent positive change

Acceptance of Wholeness & Confidence in Self

Confidence in your ability to cook Wholesome Meals and serve others with Joy

Integration & Experience of Universal Laws

Planned healthy meals (that you follow through with)

Structure and Organization in life, cooking and at mealtime

Increased Self Care Practices & Self Acceptance

Increased readiness, excitement and consistency in eating, cooking and BEing healthy

Feel more grounded, inspired and connected to your true self

Increased ability to ask and have faith in a Higher Power / Creator / God

I am here for you.
Book a free 20 minute coaching session with me.
We focus on 4 Key areas of a Healthy & Happy Life on Earth:
Develop a strong & calm mindset through consistent self care and application of mindfulness tools/ideas.  Our goal is to solve, undo and overcome problems so that we can connect to inspiration and  creativity within. When you do this, you will reside in joy & confidence as your natural state because it IS our natural state as a Soul / Gods Child. You can then bring this presence into the kitchen and your daily life.

Increase your knowledge of what whole foods are and how to turn whole foods into delicious, wholesome and well-balanced meals. It is about learning how to cook, learning what to cook and learning why you are cooking that brings purpose to the Kitchen. As you bring Soul into your cooking. you will fall in love with Whole Foods because they opens a  Whole new world.

Organize your kitchen and find your flow in meal prepping & meal planning.  Once you learn how to organize your kitchen, you can organize your life. It builds confidence and is a necessary tool for today's modern age. Also discover important health/nutrition education and kitchen hacks.
It is a power greater than yourself that will help you heal, cook & guide you in your daily activities towards joy. You will learn to connect to, trust and commune with Spirit within.
Join my mailing list and receive 3 gifts!
Introducing my Signature Program:
Kitchen Alchemy is an online course for Moms and Souls who want to up-level their home cooking and enhance their mindset so they can bring more joy and confidence into their everyday cooking and life.
Our goal is to become inwardly aligned with Truth and follow Universal Laws, so that we extend nourishment in joy.
This education and community will positively impact and bless not only our own life but the life of your families, and future generations.
What my Students & Clients are saying:
"My experience working with Britney and her alchemy course was amazing. I learned so many do-able things that totally changed the way I viewed cooking and myself. The ongoing support and community elements were awesome as well. She really cares about each person and invests in their success. I now enjoy cooking and focus on adding more whole food in as opposed to getting overwhelmed by what needs to be taken out. My cooking experiences have become fun now and if I screw something up... I don't care any more where before I would have. I highly recommend this course to anyone ready to make healthy changes for them self and their families!"
Britney's two greatest gifts to her many students are 1) her presence and 2) her passion. It doesn't matter if you're an award-winning chef or if you're just trying to keep it together for yourself or your family, Britney's approach can change everything. She truly is the "Marie Kondo" of the kitchen, mindset and self-love. Britney exudes by example that how you approach your food and your kitchen is how you approach life. She certainly taught me all that and more!
I love working with Britney!!! All of her experience, knowledge, and insights combined with her loving and joyful nature makes her a great coach and now wonderful friend. I was overwhelmed when it came to preparing healthy meals for me and my family. Thanks to her course and her constant support my mindset has shifted and I'm now confident in the kitchen and creative with my meals. I'm truly enjoying the process. I've learned skills in how to plan meals, what to include, how to look at any old habit that is not serving me and how to create new ones to empower and simplify my life. Britney has a passion for teaching and helping others succeed. That's so inspiring to me. I'm so grateful and honored to work with her.
Working with Britney and the Whole and Healthy Kitchen principles helped transform my overwhelm about feeding my family into ease. I now have more clarity around my values, goals, and rhythm in the kitchen. The courses and exercises helped me create a more nourishing routine and I now include more whole foods into my meals and more self care into my everyday life. I pay more attention to my needs as a busy working mom and focus on what's best for me and my family.
Since I discovered Britney's work in Autumn 2019, in hopes of being more disciplined with my A Course in Miracles practice, I have become a different person. Not only has my relationship with my soul transformed but so has my relationship with food and my family. In addition to working with me one-on-one for many months, Britney has also coached my teenage daughter who struggles with an anxiety-based eating disorder and helped her immensely. There is no limit to what Britney is able to do with her divinely guided skills. She is an amazing guide and teacher on this sometimes very confusing planet. She knows exactly where to shine the light to help you see the parts of yourself that are calling out for transformation! I highly recommend working with this amazing being of light, love and refreshing authenticity.
"You have arrived for a purpose.
To optimally nourish yourself, your family & future generations
- One Day, One thought, One Meal at a Time."
"The wonderful thing about food is you get three votes a day. 
Every one of them has the potential to change the world."
– Michael Pollan
WHOLE-HEALTH is a state of mind, its a way of being, it is a way of interacting with self, with each other and with food. It only gives, yet it is fully nourished, grounded and fulfilled. Whole & Healthy Kitchen is a community, where we join together to embrace a complete transformation of mind, body and kitchen that brings about Whole-Health. I feel blessed to usher in this way of making food and living life on earth reachable for all willing parents and souls. I would love for you to join us. Sign-Up for my Email List or Contact Me Here