Whole and Healthy Kitchen
We are a Purpose-Driven Community that Inspires a Healthy Mindset where Cooking & Eating become Acts of Love towards Yourself and Others.
Mindset * Ingredients * Workflow
Awaken with your inner strength so you can overcome challenges in the kitchen and beyond.
Our community educates you to:
Discover a mindset and kitchen workflow that brings ease to your kitchen experience.

Increase your confidence in buying, preparing  and cooking simple & nourishing ingredients.

Develop new & healthy habits for the transformation of your Body, Mind & Spirit.

Transform your Kitchen Experience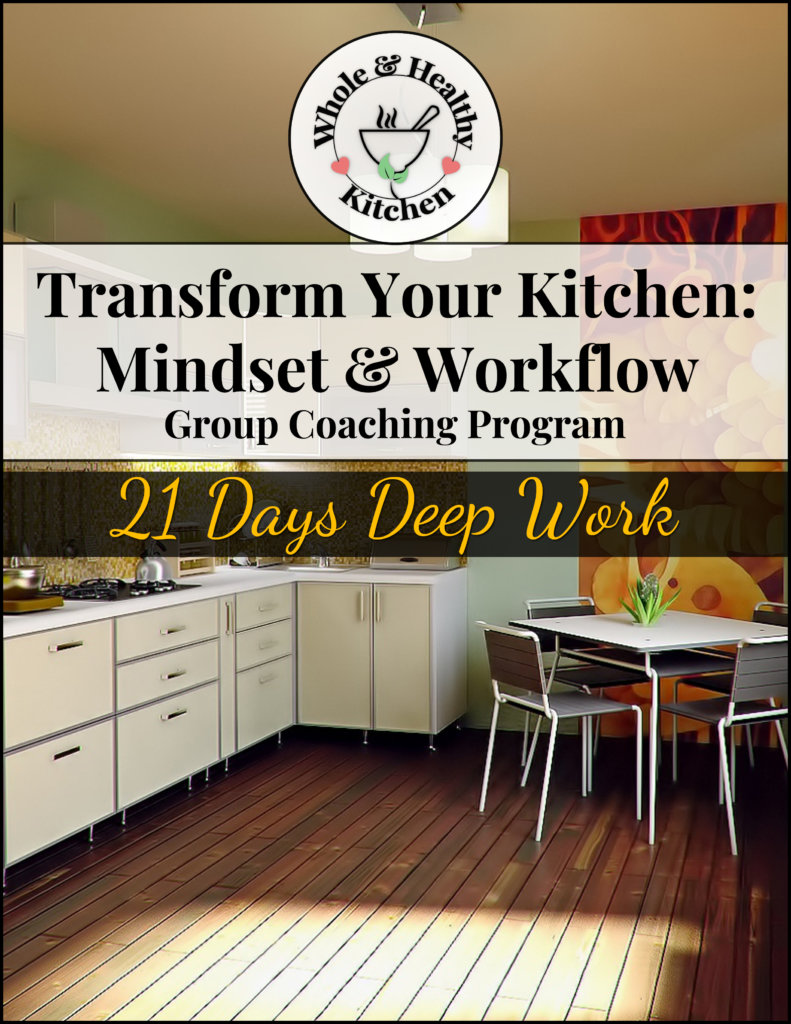 Do you want to find your most optimal mindset & workflow, to joyously cook meals for you and your family everyday? If so, then this course is for you.
I am a Soul, Mom & Founder of Whole & Healthy Kitchen. I had a spiritual experience after University that opened my mind to the realization of who I was, and what I still needed to heal inside myself. I have since overcome binge eating, weight gain and self sabotage. I have fallen in Love with God, vegetables & myself. That dark path I once walked upon is no longer here. I became a mindset teacher to thousands of people, and have personally   dedicated a decade of my life to learning, evolving and educating others on how to live their best life. A year ago in meditation, I had a vision of families gathered around the kitchen table joyfully nourishing their relationships and bodies through healthy food and conversation. It filled me with Joy, and I knew I wanted to bring this vision to life. My work at whole and healthy kitchen is an expression of this vision, my life's purpose and the desire to see the people of our world healthy, whole and happy.  Learn more about Britney
Let Britney help empower you both in and out of the Kitchen!
I help you develop the habit of making
whole & healthy meals with ease and joy everyday.

Working with Britney and the Whole and Healthy Kitchen principles helped transform my overwhelm about feeding my family into ease. I now have more clarity around my values, goals, and rhythm in the kitchen. The courses and exercises helped me create a more nourishing routine and I now include more whole foods into my meals everyday. I pay more attention to my needs as a busy working mom and focus on what's best for me and my family.

Britney literally has a God given talent for food creation. Her practical kitchen workflow tips, as well as the way she teaches about the power of the Mind have helped me immensely. She inspires me everyday and I am grateful for her work. I recommend her course to anyone who feels they can benefit from an increased sense of ease and inspiration to work and be in the kitchen everyday.
Britney is a Master of her Craft.
I am not a vegetarian and prior to eating Britney's beyond delicious meals, I was absolutely certain that I detested lentils. Yet now I find myself enjoying them very much. I am consistently amazed at how scrumptious and mouth watering every single meal and dessert Britney makes is. Thank you for turning me onto so many whole and healthy ingredients and ways of living life.
We care about the Whole You.
We care about your body, mind and spirit so you can be whole & healthy from the inside out. We care for you through bi-weekly discussion & study sessions, articles & videos, webinars & courses, workshops & events, plant based recipes, as well as powerful mindset tools and soulful practices for deep nourishment.
"A whole & healthy Kitchen is not just about cooking or eating. It is also about having a loving relationship to self and family through the food you make. By doing this, you get closer to your ideal life."
Mind Training Tools  & Meditations

"For a community to be whole and healthy,
it must be based on people's love and concern for each other."
– Millard Fuller, Founder of Habitat for Humanity 
Takes less than 3 minutes
Gives you a helpful picture of your Kitchen and your Mindset